Claim your free iDefend membership.
Welcome to a powerful new way to protect against identity theft, cybercrime and online privacy risks. Get protected. No strings attached.

What's included with the FREE plan?
Your free iDefend membership is a full identity theft recovery and support plan.
And it comes with some other amazing benefits to help protect you.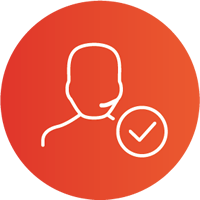 ID Theft Hotline
You have access to ID theft and cybersecurity experts who are ready to help answer questions, identify and respond to scams, and assist with potential identity theft incidents.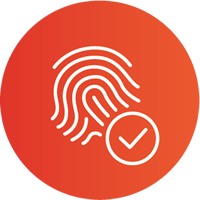 ID Theft Recovery
You've got expert help stopping ID theft with full recovery services for all types of ID theft including credit fraud, account takeover, medical ID theft, tax return fraud, Social Security fraud, criminal records fraud and more.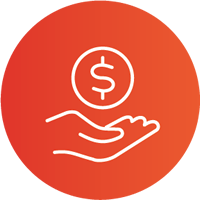 $1 Million Coverage
You are protected against fraud loss and recovery expenses up to $1 million for any out-of-pocket costs incurred for attorneys, lost wages, court fees, and other expenses related to identity restoration.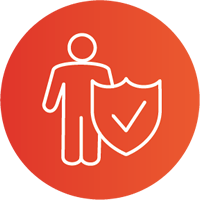 Personal Privacy
Access to free online tools and do-it-yourself resources to help you improve your cyber hygiene, better protect your privacy, and safeguard against identity and financial fraud.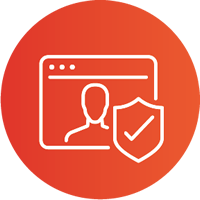 Cyber Defense Checkup
A free annual cybersecurity and identity theft checkup done remotely with a member of our cybersecurity team to make sure you have adequate defenses against cybercriminals.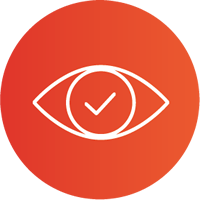 Cyberhood Watch
You will automatically receive regular Cyberhood Watch email updates, tips and alerts to help you spot and avoid scams, financial fraud, and new identity theft and cybersecurity threats.
Create Your Account.
It's fast and easy.  Register now and create your iDefend account to start your protection.  You'll be emailed your account login and instructions for getting started.
Call for Help.
Have a concern about ID theft, bank fraud, credit fraud, or worried if you are being scammed?  Our U.S. based security and fraud resolution team is ready to assist you with expert guidance, solutions, and support.
We Resolve.
If you ever suffer from identity theft or other cyber threats, you've got a team of trained experts waiting to jump into action and assist you.  We'll work to completely resolve your ID theft case with minimal stress and headaches.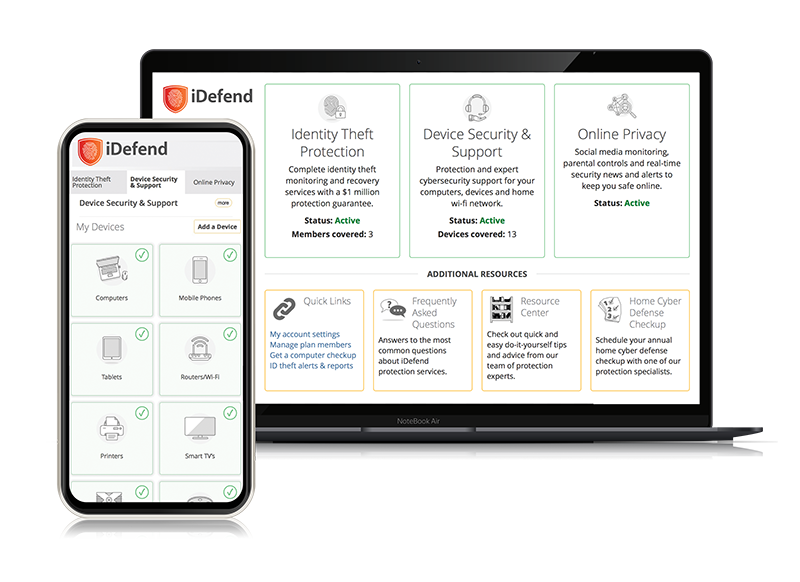 Create Your FREE Account Now.
Get powerful identity and privacy protection with iDefend.
No Credit Card. No Trials. No obligation.
INVISUS has provided you with a complimentary iDefend membership*.  When ID theft or cybersecurity problems arise, you'll have a dedicated team to work with you personally to resolve your case and help keep you safe. Create your account now to start your protection immediately.
By registering now, you ensure immediate protection before an identity theft or cybersecurity incident occurs. You'll also have the chance to add family coverage for a spouse and children.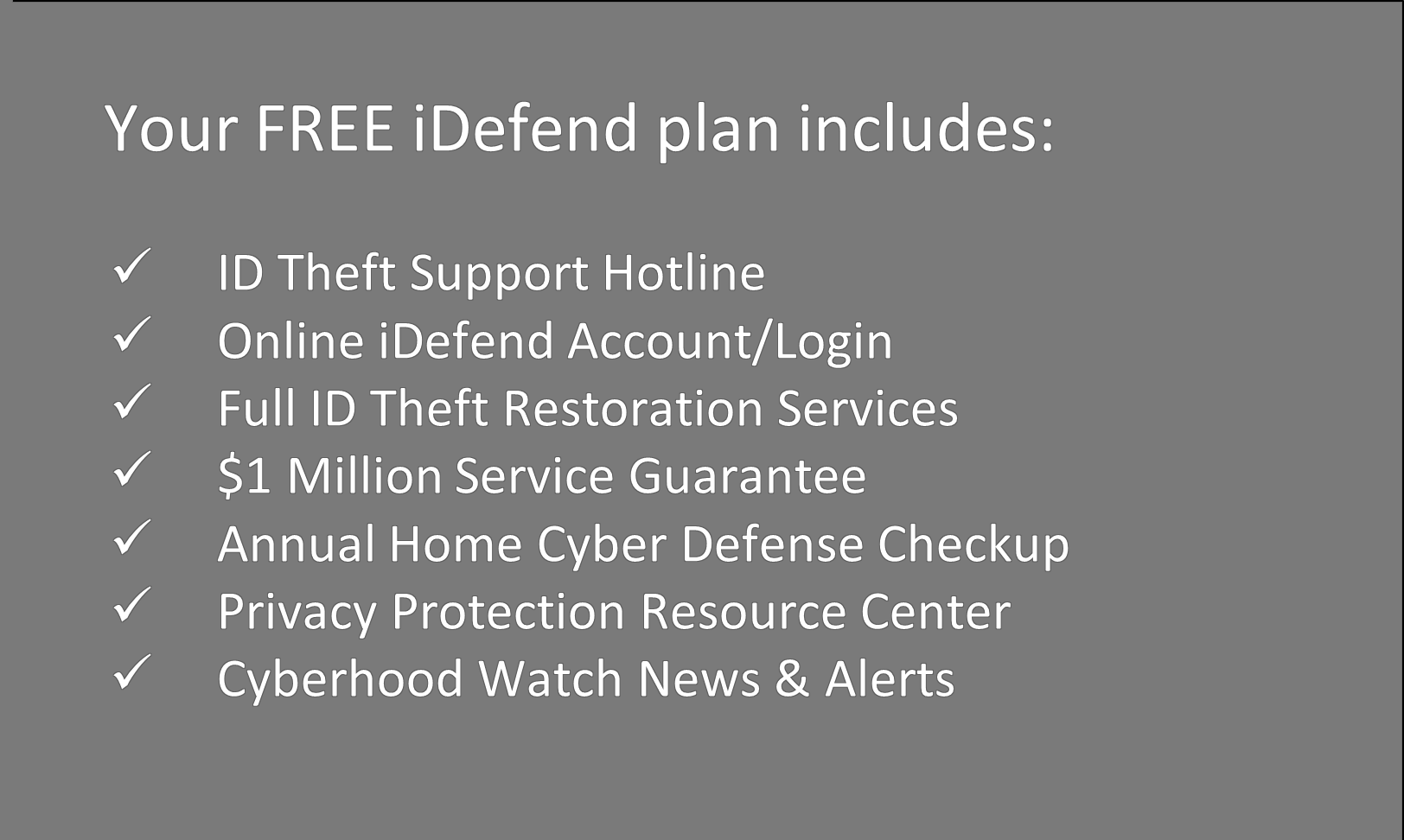 * Offer Terms: Your free iDefend Restore plan and all included protection benefits start immediately upon your completed registration and continues for a minimum of 1 year and may be extended indefinitely as per your affiliation with the sponsoring organization making this offer available to you. No credit card required for your individual account. Pre-existing identity theft cases that occurred prior to starting your iDefend membership may incur additional charges. You may upgrade your iDefend membership at any time and enroll in a more advanced plan with more protection features. As an iDefend member, upgrades to premium plans are provided to you automatically at preferred customer discounted rates.
Want More Protection?
Our premium iDefend plans give you additional powerful features
that simplify and protect more areas of your digital life.
Identity Theft Monitoring
Full identity theft monitoring including credit monitoring, dark web scans, account takeover monitoring, USPS change of address notifications, SSN trace monitoring and more.
Tech Support Services
On-demand security and technical support troubleshooting from our U.S. based team of experts including personal computers, mobile devices, home wi-fi networks, printers and more.
Network & Device Protection
Expert cybersecurity support for computers, mobile devices, home wi-fi routers, entertainment systems and smart home devices.
Social Media Monitoring
24/7 monitoring and alerts for personal information privacy risks, harassment, bullying, cyber-stalking, vulgarity, and other unwanted content on Facebook, Twitter, Instagram and LinkedIn accounts.
See Our Advanced Protection Plans.
Work from home? Shop or bank online? Use social media?
Check out the savings on our full home cyber protection plans.
Get Started
Standard
Individual Plan
$6.95/mo
(Reg. $8.95)
Family Plan
$14.95/mo
(Reg. $17.95)
Essentials
Individual Plan
$9.95/mo
(Reg. $11.95)
Family Plan
$19.95/mo
(Reg. $22.95)
Elite
Individual Plan
$16.95/mo
(Reg. $19.95)
Family Plan
$29.95/mo
(Reg. $34.95)
Annual Cyber Defense Checkup
U.S. Based Service & Support
Identity Theft Protection
$1 Million Protection Guarantee
Social Security Number Monitoring
ID Theft Alerts, Monthly Reports
1B Credit Monitoring Alerts
Account Takeover Monitoring
Home Title Theft Protection
Network & Device Security
Computer/Mobile Device Security Checkups (2/year)
On-Demand Virus, Malware Removal
Anti-Virus/Firewall Support
Home Network/Wi-Fi Security
Smart Home Device Security
Privacy Protection Resource Center
Parental Controls Support
Local Sex Offender/Crime Maps
Unlimited Troubleshooting & Repair
INDIVIDUAL Plans: All iDefend Individual Plans include identity theft, credit and online privacy features for 1 person, and security services and support for a home network, 1 computer, all personal mobile devices. Specific areas of monitoring, security and support vary by plan type.
FAMILY Plans: All iDefend Family Plans include identity theft, credit and online privacy features for up to 2 adults and all children up to the age of 18. Includes security services and technical support for a home network, all household computers and mobile devices. Specific areas of monitoring, security and support vary by plan type.
Important Information
Prices shown for the Standard, Essentials and Elite plans are preferred customer discount rates.
Your subscription begins when your purchase is completed (or otherwise, when your payment is received). When subscribing to a premium iDefend plan, you are enrolling in a recurring subscription which will automatically renew month to month. The price is subject to change, but we will always send you a notification email in advance. You can cancel your subscription by contacting Customer Service 801-724-6211. For more details, please see the iDefend Terms of Service.
Your iDefend plan may include product, service and/or protection updates and features that may be added, modified or removed according to the Terms of Service.
If your iDefend plan includes credit monitoring, reports or scores, your identity must be successfully verified with Experian, and Experian must be able to find your credit file and it must contain credit history information. Home title protection includes title theft restoration services for your home, second home, rental or other properties where you have an ownership interest.
The devices supported under your plan are personal household use only. Not all features are available on all operating systems, devices or software platforms.
Operating Systems: Windows, Mac, iOS, Android
Some features require login to your iDefend account to be activated. You will receive service notices, alerts and your Cyberhood Watch updates to the email address you provide upon registration. Full iDefend service terms can be found here.
Other Important Information: If you have an identity theft problem now, we recommend upgrading your protection to one of our more advanced plans to start full identity and credit monitoring immediately. Resolving pre-existing identity theft cases that occurred prior to starting your iDefend membership does not always, but may require additional charges. You may upgrade your service at any time to a more advanced plan with more protection features. As an iDefend member, upgrades to premium plans are provided to you automatically at preferred customer discounted rates.
More Than Just Happy Customers…. Raving Fans!
What customers are saying about their iDefend protection and support:
The Free Computer Security Checkups Saved Us!
"I'd heard about this virus that steals personal information, but without your help I would have had no one to call. My tech with you guys was able to solve and remedy the issue. I couldn't be more pleased."
Sybil B.
Scarsdale, NY
The best protection for families!
"When we learned that our children's identity could be stolen, we couldn't put off getting the right protection for our entire family. iDefend has the most complete protection for us at the best price. We are grateful for iDefend!"
Tony L.
Pittsburg, PA
My identity wasn't mine anymore.
"The fraudsters were clever, highly sophisticated, and covered just about every area of my financial life imaginable. If it had not been for the sure, steady, guiding hand of my iDefend recovery specialist, the task would have been overwhelming if not impossible."
L.A.
MI
Your money's worth – and more.
"My last experience with your security techs to rid my computer of spyware was awesome! For the amount of money, the identity protection, credit monitoring, and computer security checkups too, I feel like I am getting a real bargain."
Tim D.
Longview, WA
My daughter finally got her student loan.
"This situation was a cross credit reporting issue in my daughter's name. In the week since our specialist alerted us that my daughter's credit report was clear, she was able to successfully apply for her student loan! I am relieved we had the family plan, even though I thought we'd never use it."
W&J S.
CO
I couldn't get anywhere with my bank.
"Our iDefend specialist was knowledgeable and extremely prompt in returning calls and email, usually within a couple of hours. She was on top of everything from the get-go!"
A. W.
TX
I wasn't just another case to resolve.
"Thank you so much! You provided excellent service to me when my local authorities refused to even call me back. I literally didn't do anything except fill out paperwork and send it to you! She took care of everything for me and saved me hours of stress and despair. You are angels for what you do."
B. H.
TN